Swarthout Pool
Swarthout Pool

The pool is now closed for the 2021 season. Thanks for a great season! We'll see you next year!
Pool Hours
Monday through Friday
Early Risers: 6:00 a.m.-8:00 a.m.
Adult Lap Swim: 12:30 p.m.-1:45 p.m.
Open Swim: 1:30 p.m.-5:00 p.m.

Saturday and Sunday
Open Swim: 1:30 p.m.-5:00 p.m.

Admission Prices

Membership Type Resident Non-Resident
Household $65.00 $100.00
Single High School/Adult $50.00 $65.00
Single Through 8th Grade $35.00 $50.00
Daily Admission Fees Resident Non-Resident
Wading Pool (with adult) $1.00 $2.00
Through 8th Grade $2.00 $3.00
High School/Adult $3.00 $4.00

**Above Resident rate is for those individuals/families who live within the School District of West Salem boundaries.
*Times may vary due to weather, number of swimmers, mechanical problems, and emergency situations.
*E-mail Pool Director Abby at maliszewski.abby@wsalem.k12.wi.us or call the pool at 786-5309 with questions.
*Refunds cannot be given due to changes in weather or equipment problems.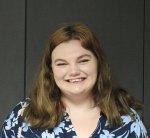 Abby Maliszewski
Pool Director
maliszewski.abby@wsalem.k12.wi.us