Swarthout Pool
Swarthout Pool

We are happy to announce the Swarthout Pool will be open for the 2021 season!

Masks
Masks are optional for patrons.
Pool Hours
Monday through Friday
Early Risers: 6:00 a.m.-8:00 a.m.
Adult Lap Swim: 12:30 p.m.-1:45 p.m.
Open Swim: 1:30 p.m.-5:00 p.m.

Saturday and Sunday
Open Swim: 1:30 p.m.-5:00 p.m.

Admission Prices

Membership Type Resident Non-Resident
Household $65.00 $100.00
Single High School/Adult $50.00 $65.00
Single Through 8th Grade $35.00 $50.00
Daily Admission Fees Resident Non-Resident
Wading Pool (with adult) $1.00 $2.00
Through 8th Grade $2.00 $3.00
High School/Adult $3.00 $4.00

**Above Resident rate is for those individuals/families who live within the School District of West Salem boundaries.
*Times may vary due to weather, number of swimmers, mechanical problems, and emergency situations.
*E-mail Pool Director Abby at maliszewski.abby@wsalem.k12.wi.us or call the pool at 786-5309 with questions.
*Refunds cannot be given due to changes in weather or equipment problems.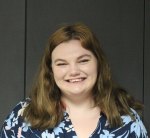 Abby Maliszewski
Pool Director
maliszewski.abby@wsalem.k12.wi.us