Enrollment
Welcome to the School District of West Salem, and thank you for your interest in our exceptional school district.
The School District of West Salem has a simple mission of "Serving with Passion." Our talented staff lives this unique mission every day through their service to children, families, and co-workers. They strive towards the goal of realizing the district vision to "Ignite Creativity, Innovation, and Excellence" in each of our students.
Our staff are committed to the foundational belief they can impact the life of each child we serve. Words like dedicated, passionate, professional, caring, and impactful describe the 300 employees who serve our children each day.
The results offer tangible evidence of our ability to achieve our vision. West Salem Elementary School is a 2017 National Blue Ribbon School of Excellence and boasts of a national Gold Medal of Distinction Award for excellence in school nutrition. The impressive and recently renovated and expanded West Salem Middle School includes grade-level pods, award-winning music programs, an integrated engineering program, and an onsite Boys' and Girls' Club. West Salem High School is a model comprehensive high school with outstanding college and career readiness offerings along with a wide variety of highly-successful co-curricular programs.
The critical element tying all district activity together is our unique campus concept and cohort approach. Our spectacular facilities are safely located on a 100-acre site including three school buildings, an events center, a swimming pool, and sports fields. Our students progress through our school district in a grade-level cohort. Familiarity and shared experiences make for a rich and impactful journey.
The School District of West Salem is located in the Village of West Salem just 10 miles north of the City of La Crosse in West Central Wisconsin. In round numbers, the district encompasses 150 square miles, includes 12,000 residents, and serves 1,800 students. The size and location of the district allow for the offering of programs and services comparable to suburban districts throughout the Midwest. The size and location of the community allow for the retention of a "home-town" approach including an annual Homecoming celebration connecting generations with Panther Pride for Panther Nation.
The School District of West Salem is a remarkable place where employees "serve with passion" to make a difference for kids and to uphold a time-honored tradition of excellence. Welcome to West Salem, where we are proud to be Panthers!

Sincerely,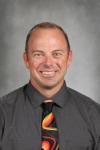 Ryan G. Rieber
Superintendent
rieber.ryan@wsalem.k12.wi.us