School Safety is our Priority
Dear West Salem School Community,
The safety, security, health, and wellbeing of our students, staff and visitors will always be a top priority for the School District of West Salem. We would like you to know as a community, the School District of West Salem is committed to continuously improve our processes and protocols. Our CORE Safety Committee meets regularly to go over protocols and procedures, review National Comprehensive School Safety Best Practices, and form important relationships with our local responders.

We encourage families to visit our school safety website to stay up to date and informed of important notices and resources we provide. We are proud of our collaboration with local emergency responders such as Police, Fire, First Responders, La Crosse County Emergency Management, local school districts and the Wisconsin Department of Justice Office of School Safety.
Sincerely,
Ryan Rieber
Superintendent
Standard Response Protocol
Our district has adopted the "i love you guys" Foundation's Standard Response Protocol (SRP). Students and staff will be training, practicing, and drilling the protocol on a regular basis in accordance with Wisconsin State Statute.

Common Language
The Standard Response Protocol is based on an all-hazards approach as opposed to individual scenarios. Like the Incident Command System (ICS), SRP utilizes clear common language while allowing for flexibility in protocol. The premise is simple - there are five specific actions that can be performed during an incident. When communicating these, the action is labeled with a "Term of Art" and is followed by a "Directive." Execution of the action is performed by active participants including students, staff, and first responders. The SRP is based on the following five actions: Hold, Secure, Lockdown, Evacuate, and Shelter. For more information on the Standard Response Protocol, please see the flyers below or visit the i love u guys foundation website.


School Safety Resources
ReadyWisconsin - Student Tools for Emergency Planning (STEP)
SchoolSafety.gov
National School Safety Center
Wisconsin School Safety Coordinators Association (WSSCA)
DPI SafeSchools
DPI Health & Safety
Sex Offenders to Notify Form


Speak Up, Speak Out Tipline
Speak Up, Speak Out is Wisconsin's School Threat Reporting System. SUSO is available 24/7 and allows students, staff, parents, and community members to submit anonymous tips related to school safety online at the SUSO website, via the SUSO app, by texting "SUSO" to 738477, or by calling 1-800-MY-SUSO-1. Resource center staff work around-the-clock to respond to tips and to deploy a response locally by communicating directly with our school administrators, law enforcement, and counselors.
Weather Safety and Communication
Occasionally, due to inclement weather conditions the district may delay or cancel school. If the decision is made to delay or close school, we will publish that information on our district social media sites first. You can follow the district on our Facebook, Instagram, and Twitter pages for the latest updates.

We will also send messages directly from our Skylert system via email, text message, and automated phone calls using the parent and guardian contacts we have on file in our Skyward student information system. If you have not recently reviewed your Skylert contact preferences, we ask that you do so by following the directions at the end of this communication. Delay and closure announcements will also be posted on our district website and shared on local TV and radio.
Should school be cancelled during the 2023-2024 school year, the first snow day will not be made up, the second will be made up on March 28, the third day will not be made up, and the fourth day will be made up on May 31. In the event we have more than four days of school cancelled, days may be added into the first week of June. Making a decision about weather-related school closures is always difficult, but please know the safety of our students and staff is always our number one priority.

Directions to edit your Skylert contact information preferences in Skyward Family Access:
1. Login to your Skyward Family Access account, which every guardian has. The login page can be accessed here or by clicking on the Skyward icon at the top right of this page. Make sure you select "Student/Family" in the pop-up box. If you don't remember your account information, click on "Forgot Your Login/Password?"
2. After logging in to Skyward Family Access, click on the Skylert tab on the left.
3. A Skylert screen will be displayed, which shows your current settings for receiving notifications.
4. Here is where you should check to make sure your phone numbers and email address are accurate. If you make any changes to these areas, they will also be reflected in your child's "Emergency Contact" information. Once you are finished making any required changes, click "Save" in the upper right.

By default, we are not allowed to send you SMS (text) messages without your permission. If you would like to receive text messages, please enter your cell phone number in the box titled "Text Message Numbers." Please note, you are only allowed to enter one phone number in this box. If your husband, wife, significant other, etc. would also like to receive text messages, they will have to log in to their own Skyward Family Access account and enable them. After saving all of your changes, please text "Y" to 675-87 to sign up to receive text messages. This is a formal opt-in that notifies our system that you would like to receive the messages. You will receive a confirmation message that says, "You're registered 4 SchoolMessenger notifications." SchoolMessenger is the company Skylert uses to send the text messages.
5. You are now set up to receive phone call and text message alerts from the School District of West Salem!

In the State of Wisconsin, Help is 3 Numbers Away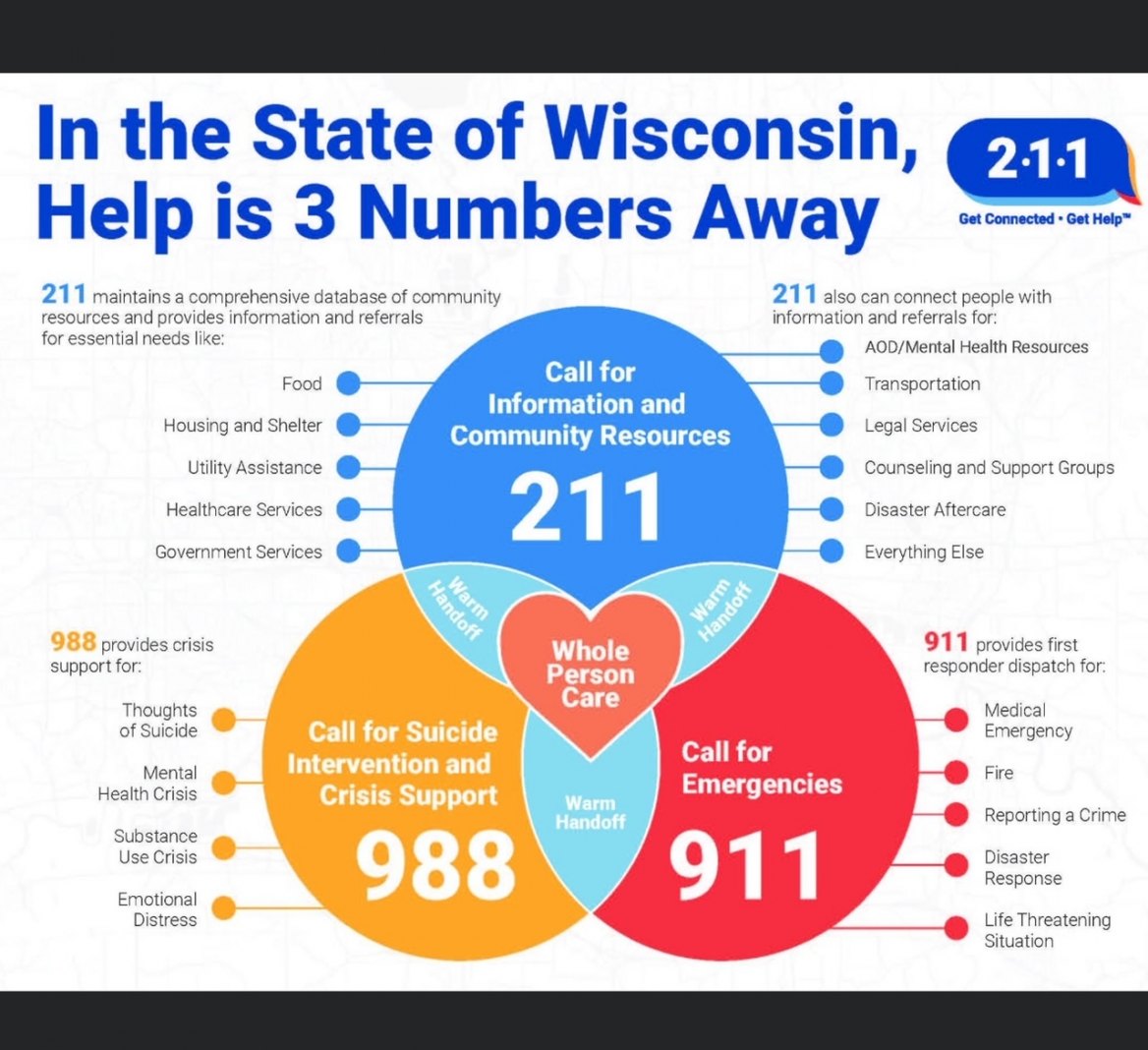 988 Crisis Lifeline
The 988 Suicide & Crisis Lifeline provides free and confidential support for anyone experiencing a suicidal, mental health, and/or substance use crisis.People of all ages who need help for themselves or a loved one can call, text, or chat 24/7.


Our Partners