Open Enrollment
Any families that do not reside within the School District of West Salem may apply to have their child attend our schools during Wisconsin's open enrollment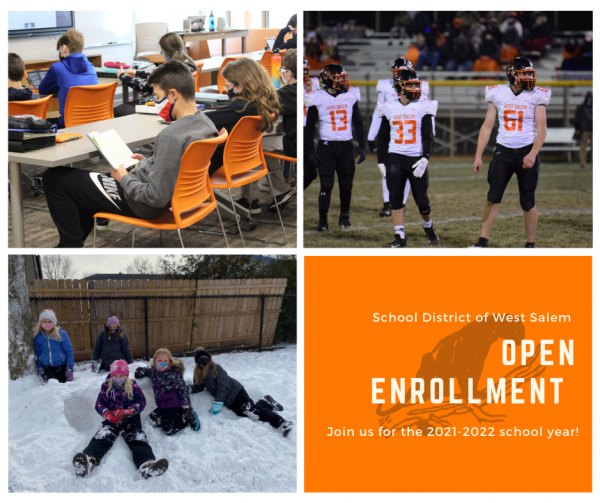 period, which runs from February 1-April 30, 2021 for the 2021-2022 school year.
The Wisconsin Department of Public Instruction encourages families to apply online by following the link below. A step-by-step guide to the online application is also included. Paper copies of the application are available on the right hand side of this page and need to be returned to the District Office.

Online Open Enrollment Application
Step-By-Step Guide to Online Application
General Information Regarding Open Enrollment

---

What is Open Enrollment?
The inter-district public school open enrollment program allows parents to apply for their children to attend public school in a school district other than the one in which they reside.
Who can apply?
Any Wisconsin resident in 4K to grade 12 may apply to attend a nonresident school district under the open enrollment program. However, a child may transfer to a nonresident school district for early childhood education or 4K only if the child's resident school district offers the same type of program and only if the child is eligible for that program in the resident school district.
When can parents apply?
The regular open enrollment application period for the 2021-22 school year begins on February 1, 2021, and ends at 4:00 pm on April 30, 2021.

An alternative application procedure allows pupils to apply for open enrollment at any time during a school year if certain criteria are met. For more information, please see the brochure here.