KAMRY KJOS
Staff Profile
GRADE 5
(608)-786-2090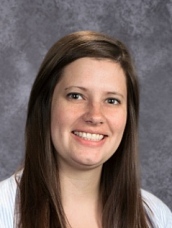 Kamry Kjos graduated from UW-La Crosse with a degree in elementary education, and now teaches fifth grade.
Why did you become a teacher? I became a teacher because I worked at a daycare during high school and I loved being around kids. I found that teaching them was even more rewarding.
What do you love most about the West Salem School District? I love my coworkers and the families I get to interact with. The 5th grade unit has so much energy and knowledge. Everyone has been so welcoming and helpful! Parents of my students are always working with me in a positive way!
Favorite classroom memory: During my first year of teaching (last year), some of my students decided to make Harry Potter wands and duel each other. It lasted for about a week and they had signs up in the classroom of what "house" they were in. It eventually got a little out of hand, but was so funny while it lasted. :)
Favorite quote: "Be silly. Be honest. Be Kind." -Ralph Waldo Emerson
A little more... My husband and I have a baby who we spend all of our time with!
Hobbies: I like to go camping, hunting, and canoeing. I have a large collection of board games! My favorite movies are the Lord of the Rings trilogy.