JESSE MCKINNEY
Staff Profile
GRADE 6 MATH
(608)-786-2090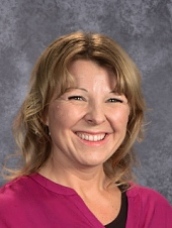 My name is Jesse McKinney and this will be my 20th year teaching, my 18th in fourth grade and 5th in West Salem. I graduated from UW-La Crosse with a degree in Elementary Education, and then completed my Master's Degree at UW-La Crosse with a focus on The Responsive Classroom.
I became a teacher because I LOVE children and wanted to do something to help them feel happy and successful each day.
I love teaching in the same school district that my kids attend! I LOVE the campus setting. I love living close to the schools and being a part of this small community. I am happy that West Salem has a focus on technology and that all of my students have iPads in 4th grade.
I have so many great memories! I remember one year when I had my 4th graders put on a play for the school. We worked FOREVER on it. We memorized our parts, played musical instruments, made costumes, and created scenery. It was a great success and enjoyed by the whole school and all of the parents. :)
My advice for my students is to work their hardest and to simply do their very best every single day. I love proactive, positive students. We learn about the 7 Habits, and students work to use these throughout the school year. I want my students to enjoy learning, and I love helping build their self-esteem.
I have four children in the district (9th, 7th, 4nd, and 2nd). My husband works for the BNSF Railroad. I love to read, run, play basketball, shop, hang out with my family, and play with my kids. I love traveling, and I prefer the heat of summer!