2020-2021 School Reopening Plans
Please refer to this page for the most up-to-date information regarding the 2020-2021 school year and our reopening plans. We follow the La Crosse County Health Department's guidelines, which can be found at the links below.

July 15, 2020 Update
Reopening Plans
Below you will find a copy of our plan for reopening West Salem schools. Please note, the plan is only a draft! This will help to provide a frame for planning purposes moving forward. Our administrative team will be working with our staff to further the plan as well as seeking your thoughts. Please stay tuned for more information. After gaining feedback while still remaining inline with our county health department and the other school districts in La Crosse County, our administrative team will then bring a more detailed plan to the school board on July 27th and submit a proposed plan to the La Crosse County Health Department for approval. Please know that all of this work is preliminary.

2020-2021 Reopening Schools Draft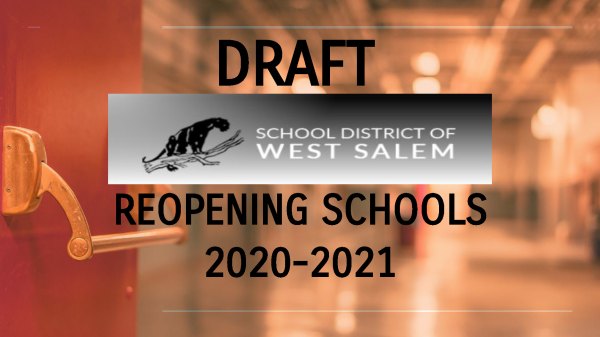 Coulee Region Virtual Academy
Registration for our optional online learning platform, Coulee Region Virtual Academy (CRVA) created in conjuction with the school districts of La Crosse, Onalaska, Holmen, and Bangor, began today and will run through July 30th. Additional information about CRVA can be found at the link below.

Coulee Region Virtual Academy Info and Registration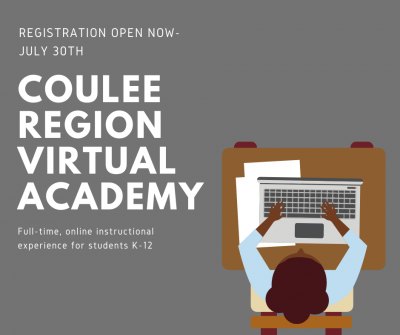 Current status of La Crosse County COVID-19 Compass: Orange, High Risk. Please refer to the image below for the guidelines.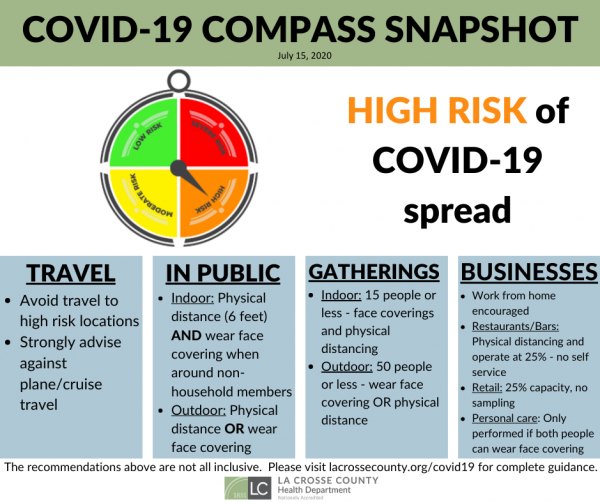 La Crosse County Health Department COVID-19 Recommendations
Coulee COVID-19 Compass Dashboard and Current Status