2020-2021 School Reopening Plans
Please refer to this page for the most up-to-date information regarding the 2020-2021 school year and our reopening plans. We follow the La Crosse County Health Department's guidelines, which can be found at the links below. You can also refer to our COVID-19 Dashboard for the latest data we are using to determine our mode of learning.

December 9, 2020 Update
December 2, 2020 Update
November 20, 2020 Update
November 8, 2020 Update
November 4, 2020 Update
October 28, 2020 Update
October 21, 2020 Update
October 14, 2020 Update
October 7, 2020 Update
September 30, 2020 Update

September 23, 2020 Update
August 27, 2020 Update
School Reopening Plan
WSSD Health & Safety

August 18, 2020 Update
Good Afternoon West Salem Families,

At our BOE meeting last night our Board of Education voted for us to return face-to-face with students on Monday, September 14th. We will start the first two weeks implementing our online education schedule that was shared with you last week by our building principals. As we move into the coming weeks, our reentry plan will look accordingly:

Tuesday, September 8 ~ 4K students will begin face to face instruction
Monday, September 14 ~ Grades K-5 will begin face to face instruction
Monday, September 14 ~ Grades 6-12 will begin our "Blended" learning model

Our 6-12 Blended Learning Model will proceed as follows:
"West" Group: Last names (A-K) In-person on Monday and Wednesday
"Salem" Group: Last names (L-Z) in-person on Tuesday and Thursday

Stay tuned for more information on our "Blended Learning" coming out from Mr. Malott and Mr. Wopat after the start of our online learning the first week in September.

Another reminder for all students and families to go online and register so that you can pick up technology on August 26 from 7 am - 7 pm at your respective buildings. Students that are enrolled in the Coulee Region Virtual Academy (CRVA) will have technology pick-up at the entrance of the Heider Center. If you have any questions, please contact your child's building principal.
We are all looking forward to having our students back with us again!
Thank you and have a great day!
Ryan G. Rieber
Superintendent

July 29, 2020 Update

Dear Families,
At Monday night's Board Meeting, we made the difficult decision to begin our school year virtually. This decision was not made lightly by anyone within our district or our partners throughout the county. We will continually be assessing the situation, following the county compass, and hope to return to in-person learning as soon as possible. We want to provide consistency for our families across the district and county to ensure the safety of our students, staff, and community. We know that everyone wants our lives to go back to as normal as possible, and to have our students return to our school buildings for the fall. COVID-19 is a health emergency that is obviously affecting school functioning. The recommendation to begin the year virtually is difficult. We love what we do, but our first priority is to protect the health, safety, and wellbeing of students, teachers, other school staff, their families, and our community.
As we continue to get guidance from our county health department to guide our building and district level decisions, here are some items that we know at this time:
School will start on September 1 virtually within our district. We will send out communication of what this will look like in each one of our buildings. What will be consistent throughout is that staff will take time and reach out to students and families to introduce themselves, answer questions, and start building relationships. This is very similar to the start of a traditional school year.
This model will be reevaluated continuously and an announcement will be made on September 30 as to whether there will be a change in the instructional model. This model (virtual, blended, in-person) will be implemented on Monday. October 5th. However, if we would be in the RED category on the La Crosse County Compass, learning would remain virtual.
The Coulee Region Virtual Academy has extended their enrollment period through August 2. For more information on the CRVA, please visit the links below.
Upon return to school, students and staff will be required to wear face coverings in accordance with the CDC and La Crosse County Compass.
Again, We are working to ensure the safe return to school for our students and staff and are reliant on the county health department to inform us of what safe is. To ignore or not follow these guidelines would be to fall short on our promise to ensure the safety of our students, staff, and families. Our continuous work and preparation will be communicated out. More specific communication will come from building administrators as to specific details for our buildings. Please let me know if you have any questions, concerns, or input on the proposed plan.

Ryan G. Rieber
Superintendent
608-786-0700



July 15, 2020 Update
Reopening Plans
Below you will find a copy of our plan for reopening West Salem schools. Please note, the plan is only a draft! This will help to provide a frame for planning purposes moving forward. Our administrative team will be working with our staff to further the plan as well as seeking your thoughts. Please stay tuned for more information. After gaining feedback while still remaining inline with our county health department and the other school districts in La Crosse County, our administrative team will then bring a more detailed plan to the school board on July 27th and submit a proposed plan to the La Crosse County Health Department for approval. Please know that all of this work is preliminary.

2020-2021 Reopening Schools Draft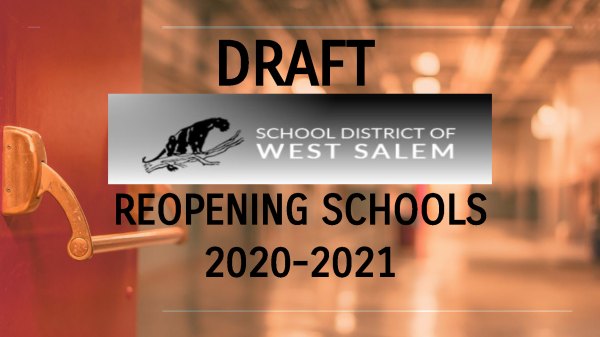 Coulee Region Virtual Academy
Registration for our optional online learning platform, Coulee Region Virtual Academy (CRVA) created in conjuction with the school districts of La Crosse, Onalaska, Holmen, and Bangor is now open for the spring semester. Registration will be open until December 18.

Coulee Region Virtual Academy Info and Registration


Coulee COVID-19 Collaborative
The La Crosse County Health Department, along with Mayo Clinic Health System and Gundersen Health System have created the Coulee COVID-19 Collaborative. The Collaborative has established metrics and community indicators to evaluate the status of COVID-19 in our community. These metrics are updated weekly on Wednesday afternoons. We utilize these metrics, along with our decision matrix to determine our mode of instruction weekly.